With Thanksgiving behind us and Christmas before us, MaMe Musings is excited to begin our second-annual holiday series:
Unwrapping Our Gifts
. Each Tuesday and Thursday between now and Christmas, I will be welcoming a special guest blogger. Each guest has generously offered to share an idea/story/tip/etc. that illuminates his/her individual gifts and is related to the holiday season in some way.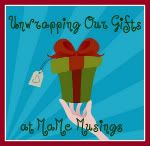 Today, I am excited to welcome Kerry from
It's the Little Things
.
Kerry is a lady with many gifts! She's a mom to three wonderful children, Jordyn, Ryan, and Liam. She's a talented writer who really has a knack for finding the beauty and the truth in the little things. Although we've never met in person, I know we'd be great friends in real life. We would commiserate over our messy house, share a pot of coffee, and she would teach me how to make my eye make-up look as fabulous as hers. The only problem? She lives way far away in one of my bucket list locales: Australia! Kerry, won't you move and be my neighbor? Shucks. It was worth a try. Until then, I will settle for living vicariously through her stories. Today, Kerry takes us inside an Aussie Christmas.
The Christmas season has begun here in Australia, although in many major shopping malls, it really began at the start of October! Over-sized decorations adorn the stores, carols play over the top of the sound of busy shoppers scouring the sales and picking out pretty wrapping paper for that special someone.
Santa's throne is placed in a central location ready for all the boys and girls to wait in line for hours on end to have their photos taken sitting upon his big red knee.
And whilst the Christmas treats in all their glorious packaging sit upon the shelves, there is absolutely no point in starting that long over-due diet plan.
But what is Christmas like in Australia? For all of our northern neighbours, who in some parts are knee deep in snow, here is a glimpse inside a hot 'Aussie' Christmas…
Christmas is a happy time here in Australia. A time where those of us who have young children at school get excited as it also marks the end of the school year and the start of the long summer holidays. The children enjoy up to 7 weeks of summer fun in the sun and begin a new school year, new classes, with new teachers, at the end of January.
The beaches and caravan parks all along the coast fill up with holiday makers. Be it domestic travel or international travel, our airports are abuzz with people from all over ready to wind down their working year and possibly head home to loved ones to celebrate the silly season with copious amounts of food and alcohol.
After a long cold winter, some residents from down south of Australia plan to spend their holidays up north, to bask in the sunshine and enjoy the many water sports that the Aussie people have grown to love.
Christmas-time here in Australia doesn't differ much in the sense that we too see it as a time for family and friends, gift giving, celebrating, attending church (for those of whom are religious), and indulging in scrumptious Christmas fare followed by the trying efforts of losing the weight come January! Of course, the children keep the excitement going with their belief that at the end of their countdown, Santa will pay them all a visit only when they are fast asleep. They too will awake to something they wished for, but of course, it happens 12 to 24 hours before the kids on the other side of the world awake to their Christmas morning!
The time difference is, of course, the reason that Santa and his reindeer manage to make it around the world all in one night ;)
But here in Australia, he doesn't slide down a chimney, for most of us don't have one. There is no risk of him scorching his bottom on a smouldering fireplace on Christmas Eve. For those that do have one, it is usually electric or purely decoration!
There is no snow to make snow angels, no need for hot chocolate or winter coats and gloves. Our Christmas is a hot one, where temps can reach 30 degrees Celsius plus. Fake snow adorns our windows yet Christmas cards that hang on our walls depict a wintry feeling. In Australia Santa sits upon his chair at the shops sweltering in an arctic style red suit while flushed children in shorts and t-shirts line up to put in their Christmas orders.
We listen to carols that tell a story of white Christmases with all the trimmings...while men drink beer and kids enjoy ice-blocks to cool them down.
On Christmas Day we sit down to cold meats and salads, BBQ chicken, bread rolls and Pavlova (fruit & cream covered meringue dessert). A lot of Aussies eat seafood, some enjoy barbeque's or picnics at the beach. Very few can be bothered to cook a hot Christmas lunch with the outdoor heat making it unbearable to stay in the kitchen any longer than necessary.
Some Aussies spend the day at the beach or go off camping. Some love to play cricket in the yard.
Men like to drink that beer holding a pair of tongs over a barbecue, while kids bomb dive into swimming pools!
This is an Aussie Christmas, and we're used to it being this way.
However, one day my family and I dream of experiencing a true white Christmas with snow and snowmen and ice-skating; listening to carolers whilst drinking hot cocoa by the fire...